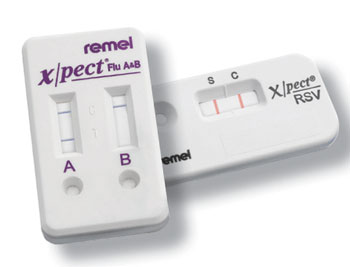 Xpect® More.
Get More.
Preparing for Respiratory Season can really pay off
Don't wait for the respiratory season to hit. This year, be ready with Xpect®.
This season we are offering special incentives for Xpect® Flu A&B and Xpect® RSV kits. Any purchase of 5 Xpect® respiratory kits at one time will earn you one no charge item. You have the option to mix and match Xpect® Flu A&B and Xpect® RSV kits during the promotional period in addition to selecting one no charge item from FIVE different products! There is no limit to the amount of no charge items that can be earned.
Buy 5.
Mix and match:
Xpect® Flu A&B and Xpect® RSV
Get accurate results within 15 minutes to improve patient management
Eliminate workflow bottlenecks with simple, walk-away procedures
Avoid waste with kits that feature an 18 month* room temperature shelf life
* from date of manufacture
Get More.
Choose one kit from the following products:

Time is limited. Take advantage of the Xpect® More. Get More. Promotion today!
Contact your Remel Technical Sales Representative for more details.